Hello everyone, a new member from Finland saying hi! Thought I'd post some pics of my 6R, and some of the mods I've done so far.
(Thought about posting in the "Members' Rides" section but couldn't find many 6Rs there, most seem to post in this section? Please move this to the proper section if this is the wrong place.)
I placed an order for a new 1.2 TSI late in July 2010 and took delivery of the car about three months later on Oct 22th 2010. This is my first VW as all my previous cars have been Renaults. I've found Renaults utterly reliable, it's just that I got fed up with my local Renault dealer so thought I'd try another marque (and their service) for a change. Here's what I ordered and got:
2011 Polo Comfortline 1.2 TSI (77kW/105bhp)
6-speed manual
3-door
Candy White / Titan Black interior
Just wanted an uncomplicated and affordable everyday transport so didn't go crazy with ordering extras. Just a few options I felt might be nice to have:
- Sensor pack: parking sensors rear, cruise control, multifunction display
- Bi-Xenon headlights
- foglights
- factory-tinted rear side and rear windows
- front centre armrest
- RCD-510
- w/o model or engine badges on the boot lid
OK. Day One. My first ever brand-new car waiting to be delivered to me:
Sadly had to leave my beloved Mégane 2.0 16V / RS lookalike behind:
First 15kms without crashing, time to strike a pose:
Day Two. Only managed 496km (310 miles) from new before the car needed some work!
Just needed to get rid of those temporary springs obviously fitted just to transport the car from factory to dealership. Can't see any other reason why they would fit such 4x4 springs to an otherwise perfectly normal car...
I opted for H&R 25/40mm springs, and thought best to fit them when the car is new and all balljoints and bushes are still unworn. Naturally I loosened the bolts that the suspension arms pivot around, and only retightened them when the weight of the car was back on its wheels with the shorter springs in. This to protect the rubber bushings from tearing apart, which can happen if you don't loosen the bolts and let the suspension arms settle to their new position. Here the car right after having been lowered:
Obviously the 185/60R15 temporary wheels are also meant just for the transport from factory to dealership, so off they came, too. The winter was well on its way, so I had some Michelin winter tyres fitted on five-spoke RS6 replica alloys (7½x17" ET35):
Those 215/45R17 winter tyres look rather chunky, and sadly they in fact were too chunky: They caused some rubbing at the front due to their outer diameter being too large.
But that's what the winter 2010/2011 was driven on, luckily no real damage was done in the end.
I had knowingly ordered the car with the basic plastic steering wheel since I didn't quite fancy the optional Polo leather steering wheel. I had other plans, like this Scirocco R-Line I ordered from Portugal:
To liven up the interior a bit more, I also ordered these aluminium surrounds for the light switch and Climatic controls:
Changed the roof aerial for a shorter one from a Citroën C5 (requires some modding to the thread of the aerial):
Sadly I've no better photo but here's the R-Line steering wheel fitted:
And to annoy all GTI snobs, also ordered a GTI honeycomb grille:
Definitely not going to pretend mine is anything but a humble TSI, so off came the GTI badge:
Cock. The honeycomb behind the badge is not symmetrical.
So will need some sort of badge to cover that bit, but don't want to go the obvious 'TSI' route... Some ebaying later and I had come up with this:
Didn't wan't to butcher the GTI badge at this point, so had to make my own backing plate for the ABT badge:
I then glued on the badge to the backing plate using 2-k Araldite:
One ABT grille if you please:
With the winter approaching I also wanted a glovebox light. Paid three euros for this not quite OEM solution:
The bottom line is it works, and rather well, too! It has a motion sensor so it lights up automatically when the glovebox lid is opened, and the sunglass holder blocks its "eye" when the lid is closed, so any stuff moving around in the glovebox won't make the light come on. Rather ingenious if I may say so...
Also wanted to lose the plastic gearknob and gaiter and go leather. Found this rather nice and OEM-looking ICT leather gearknob and gaiter:
I'm WELL past my 20's. but still wanted some bling, just nothing too garish (I hope):
Here's the standard one (on the left) vs. ICT:
I think the ICT one looks OEM enough. I wanted to make the electrics as OEM as possible as well, so ordered some original VW connectors:
Removed the old 'knob and secured the new one with three set screws:
To protect the skinny wires I first put two lengths of shrink tubing around them, then wrapped them in OEM-style fabric tape:
Drove around with the illumination unconnected for almost a year until a few weeks ago finally got the energy to remove the centre console:
I put in a counter-connector for the gearknob lighting. This way, if I need to remove the gearknob/gearstick for some reason, I can just undo the electrical connector without having to cut any wires. I soldered/heat-shrunk the positive lead to the 12V socket lighting lead, and the negative lead to the proper threaded earthing stud on the central tunnel. While I was at it, I also put in wiring for footwell lights. For some reason the Comfortline Polos destined to Finland don't have the footwell lights, whereas the German Comfortlines do. Odd.
OK, that electrickery was fastforwarding to this autumn, but early this spring I needed to think about summer wheels. I like the RS6 five-spokes I had for the winter but wanted something different for the summer. After browsing through hundreds of designs I finally dediced for the TSW Spa in 8x17" ET35, shod with Michelin Pilot Exalto PE2 in 215/40R17: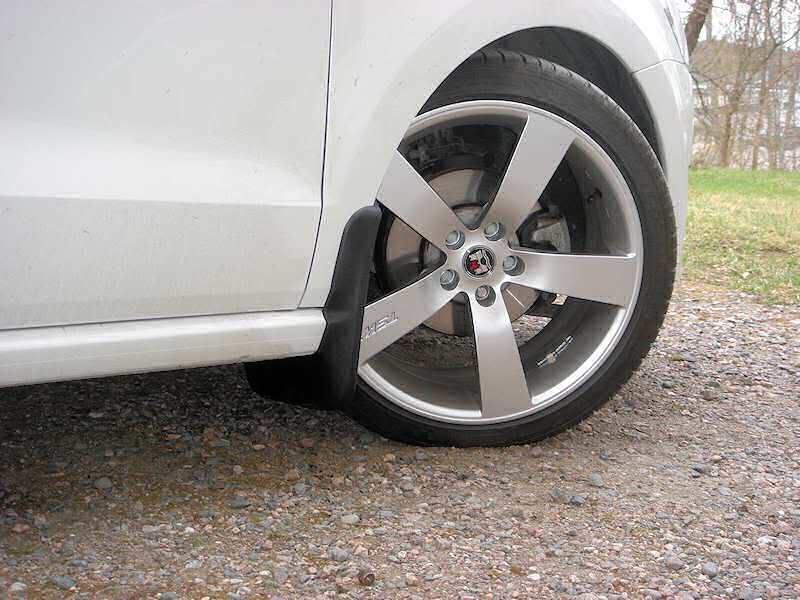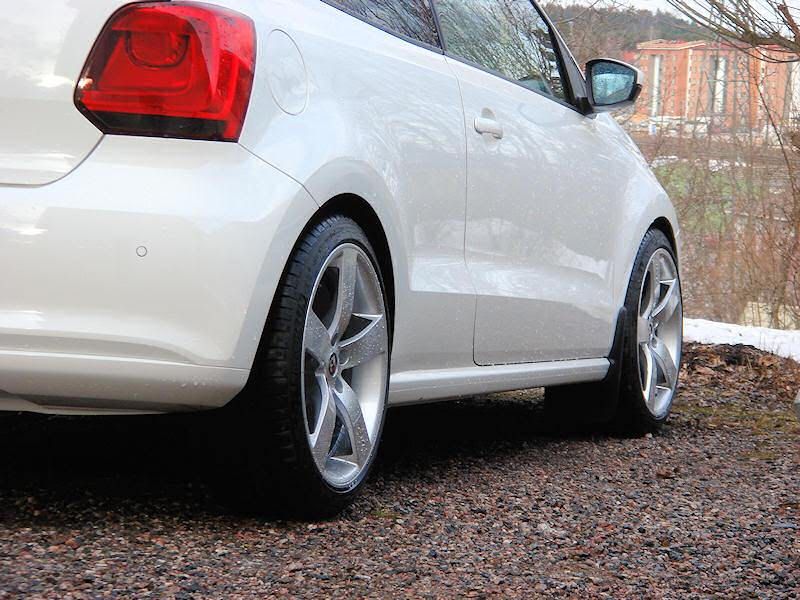 With the spokes reaching from the outer edge all the way to the centre, the optical illusion makes the wheels seem even bigger than the 17" they really are. Which is what I like. What I didn't like, though, were the horribly bland TSW centre caps. The caps were only 45mm in diameter, but I managed to find some nice stickers to make my own TSW Spa 'Wolfsburg Editions':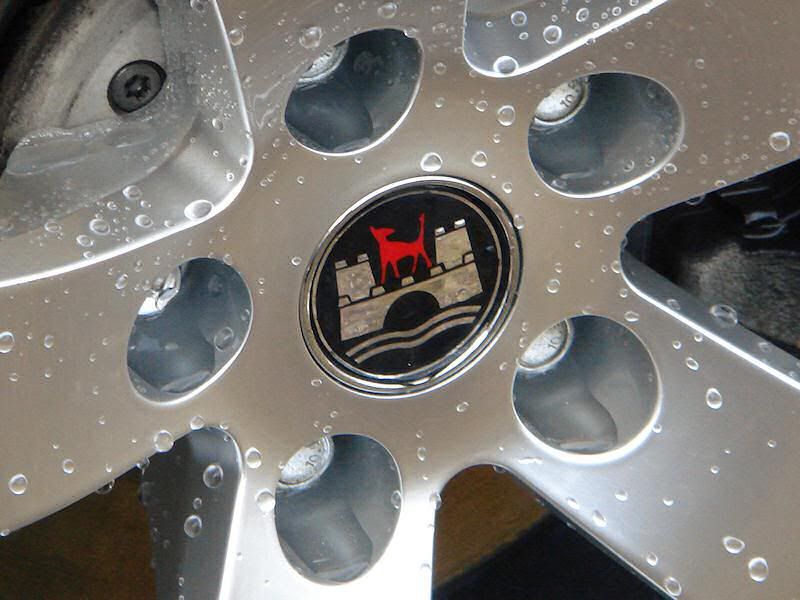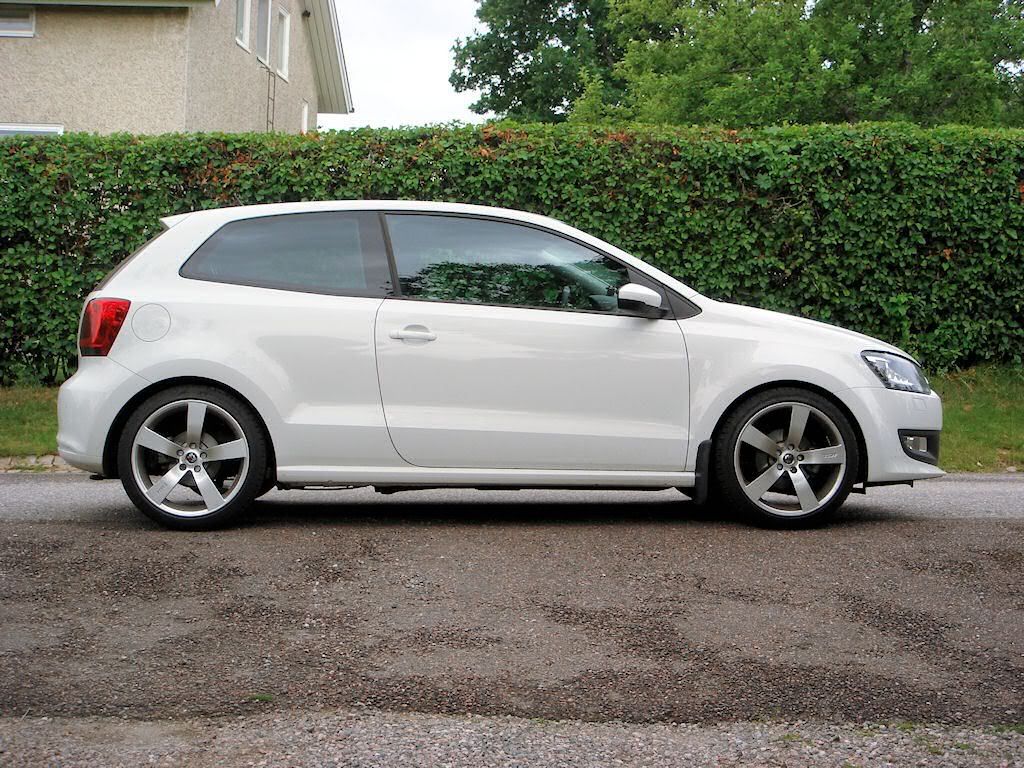 I've also swapped out the standard instrument panel with the 7-segment MFD and digital fuel gauge for a one from the GTI. You know, the one with proper needles for coolant temperature and fuel, and the nice multidot MFD. Managed to get a brand new 'virgin' one through a guy who works at Continental/VDO (who make the GTI instrument panels). Even had the protective film still on: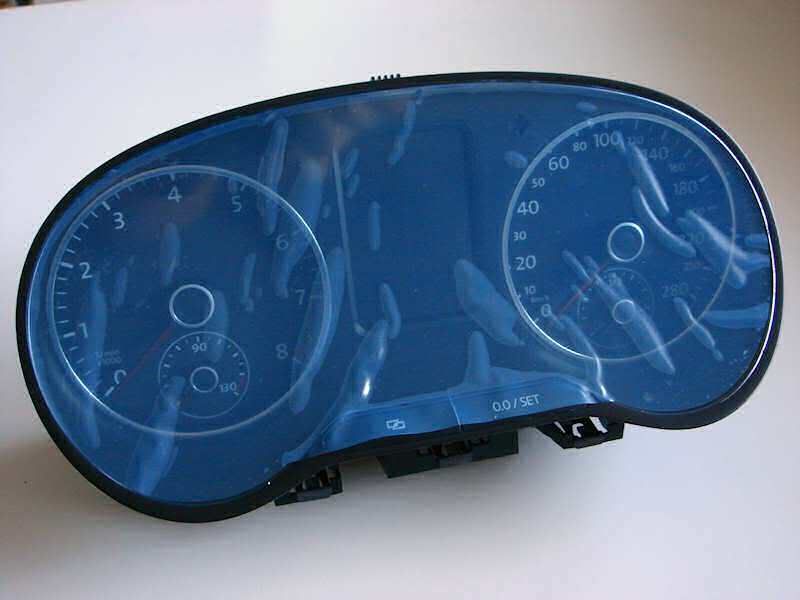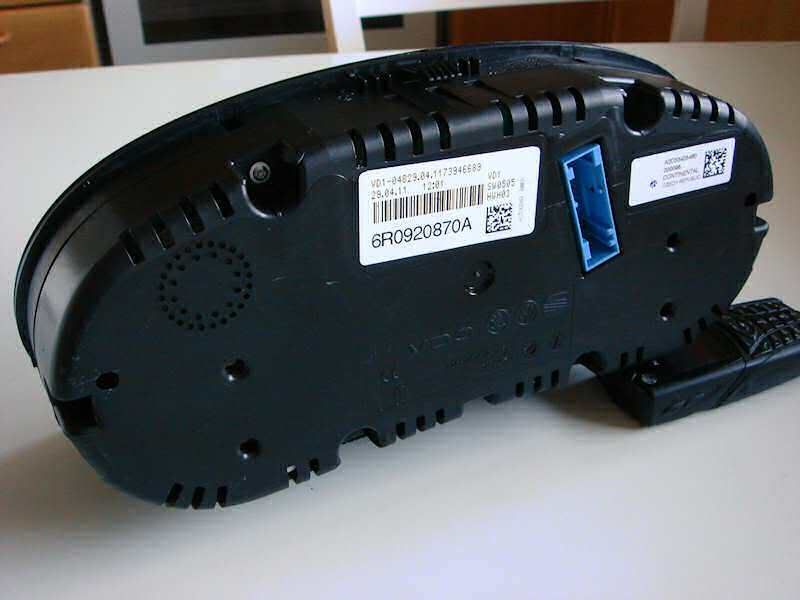 A trip to an authorised VW dealer was needed to have the
Wegfahrsperre
coded (sorry, can't remember the English word for the life of me...) and the correct mileage copied from the original instrument panel to the new. That took 45 minutes after which I was greeted with this: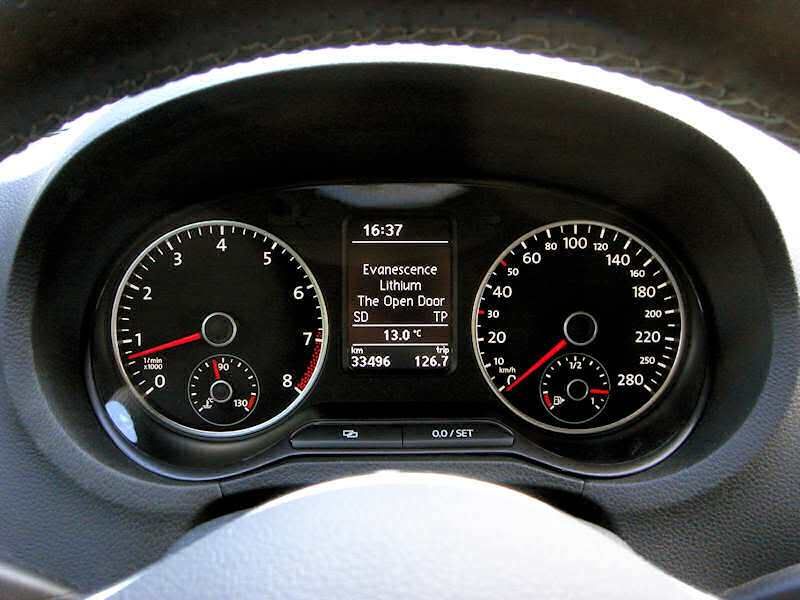 I have a Fiscon bluetooth connected to my RCD-510, and now I can start A2DP-streaming through the MFD menu: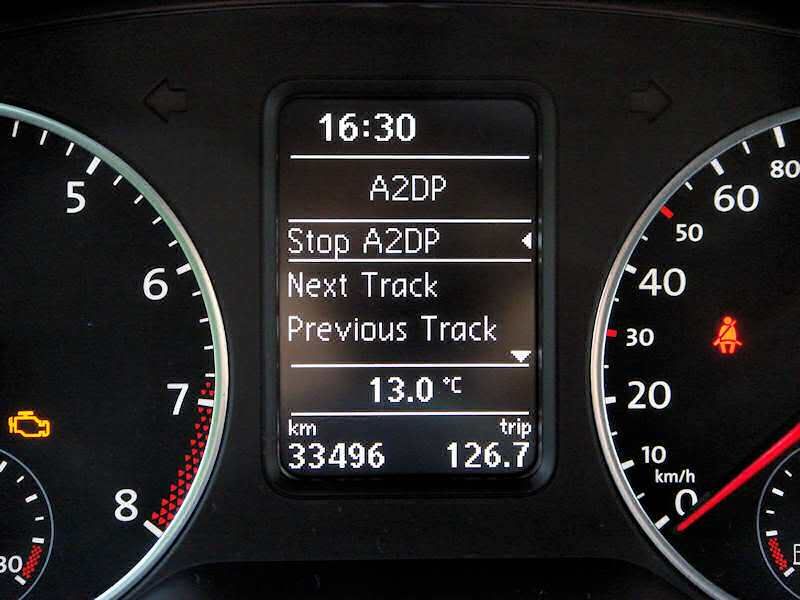 So, that about sums up what I've done to the car so far. I bought the car with the solemn intention of just driving it and not modifying anything (I've other project cars I can work on), but you how it is...
Oh, one thing: The 215/45R17 winter tyres I had last winter were too big in diameter, causing rubbing. Sadly the smaller-diameter original 215/40R17 size isn't available as a 'proper' winter tyre designed for Scandinavian winters with constantly icy roads, so I'll have to bite the bullet and go for 'only' 16" wheels next winter. The size will be 195/50R16 which is an exact match to the original tye sizes when it comes to outer diameter. I've always liked the optional VW Boavistas, so I was very happy to notice that there's a very close replica available in 16":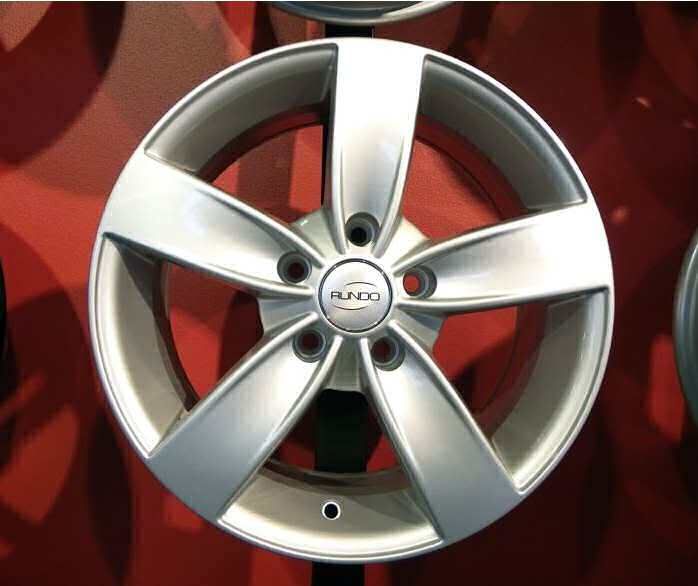 I now have a set of those (7x16" ET35) waiting for tyres. And some original-looking VW centre caps to fool the unaware...